Implication Of Community Market's Development For Local Farmers And Market Actors In Barisal And Madaripur Districts Of Bangladesh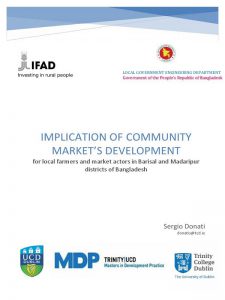 Report Release Date
Project Country

MDP Program

Project Name
Author(s)
This paper investigates the implications of the Climate Coastal Resilient Infrastructure Project
(CCRIP) in coastal Bangladesh. In particular, it has been studied how market facilities constructed
since 2013 have impacted access to market, food security and livelihoods of small-scale farmers in
two districts were the project was implemented. The aim of the research is to understand the
connection between rural development and economic development on the areas interested by the
interventions and assess their impact. During the ten weeks research, data were collected on the
field from two markets, denominated treatment markets, part of CCRIP intervention; alongside with
a third market having similar features but not selected for the implementation phase of the CCRIP,
denominated control market. Moreover, a desk-based analysis of previous report as well as data
gathered by previous CCRIP studies was conducted during the fieldwork. Based on figures and
opinions gathered from participants, CCRIP has undoubtedly improved living conditions and brought
benefits to local communities. Farmers seem to be more food secure compare to control group
farmers. Further, all indicators chosen for the comparison are greater for treatment markets than
for the control one. Finally, land has seen a significant increase in price after the project
intervention. However, further studies are needed to assess a more statistically significant
correlation between the project intervention and its effect on the population.
| File | Action |
| --- | --- |
| 2018_Sergio_Donati_TCD_UCD_Bangladesh | Download |